Get Pocoman™ From iTunes Now

Download
Pocoman™ Libre

Download
Pocoman™ Primo
Pocoman™ is a classic puzzle game that first appeared long ago on another revolutionary device, the Amiga computer. Finally available on the iPhone and iPod Touch, Pocoman™ will delight and challenge as you attempt to solve each of the increasingly difficult levels.
Suitable for all ages, Pocoman™ is simple to understand but difficult to master. The goal is to save each of the treasures by pushing them onto a bank, marked with an "X". But Pocoman™ can only push treasures, never pull, and he cannot push more than one at a time. Simple, right?. Can you do it?
If you like puzzles, you'll love Pocoman™. Pocoman™ is a terrific casual game for those times when you are out and about with a little extra time on your hands, commuting, taking a break or when you just need a little diversion.
Pocoman™ Libre is the free version of Pocoman™, to get you started. It contains 10 levels of easy to moderate difficulty to show you how the gameplay works and to whet your appetite for more.
Pocoman™ Primo contains many more levels that range from moderate to difficult. Search for "Pocoman" in the iTunes App Store to find it. A great value at just pennies per level. Additional level packs are planned, so check back regularly.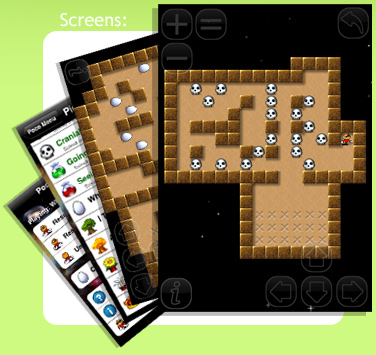 Pocoman™ Features:
10 free levels to solve
Rotate and zoom playfield for easier play
Resume play where you left off
Undo most recent move if you make a mistake
Shake to restart a level
Hours of brain-teasing fun
Contact Us:
To send a message to the publishers or report an issue with Pocoman™, please click here.